Tellico Plains Club Ride #1, March, 2008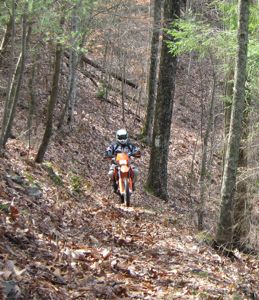 Not only did we ride them there trails, we took pictures as well.

The Cherokee National Forest in Tennessee has two designated horse/hike/Motorcycle trails. Trail 81 and Trail 82. These are not recommended for beginners (or flatlanders anyway). Both are relatively short linear trails. Each has a few climbs and a bit of side-hill off-camber action.
Believe it or not, we were there to ride the awesome backroads that wind along the mountains. These two single track trails were simply "hero section" options. Out of the several hundreds of miles of excellent, easy forest roads these two trails take up less than 12 miles together.
Special thanks to Kieth L for recording & sharing the video.
Video of Trail 82 (the easier trail). It had been raining the previous couple days making for a slippery ride. The rain came back about half way into the trail, which explains the blurred images.22 Minutes. Flash v8 Video, 80MB
Video of Trail 81 (much tougher trail). No rain today, just rain the last few days. Nice and sunny, with 4″ of wet leaves covering slick clay, loose rocks and the frequent roller log. This is only the first ~1 mile, the camera operator broke his wrist during filming, you'll see. 7 Minutes. Flash v8 Video, 40MB
Video of various roads. Samples of what the paved and gravel/dirt roads look like. These are the roads we took from Tellico Plains to reach Trail 81. There are better ways (less pavement) but we had already used them on the previous days. 22 Minutes. Flash v8 Video, 86MB