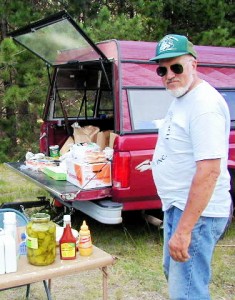 Here's some nolstalgia for our long-time members and a bit of history for the rest.
This was Steve Flach's second "dual sport" article that was published in the CCC's Great Lakes Trail Rider magazine back in 1998 (link to first article). It's interesting to watch the "tone" change from year to year in the subsequent articles as things progress. Those of us with direct involvement can also look back on the history of our organization/sport and see things coming together (in hindsight, of course).
Dual Sport Riding II
by Steve Flach ('46-'07)
Last february, I submitted an article for publication in the Trailrider magazine about Dual Sport riding. In it, I explained what it is, how it works, what type of bike one needs, and appealed to you ccc members that just might want a different type of riding instead of the same 'whooped' single track trail that is used when chapters hold their trail tours at the same sites each year. I had hoped the article would increase Dual Sport ridership from 10-15% of the total event signups it has been the last few years to 20% or more. Well, quite a few of you responded and tried this easier form of riding. Of the 8 weekend trail tours that offered Dual Sport riding, 6 had participation ranging from 18 to 32+% of the total riders. The following is a summary of Dual Sport ridership at the 1998 trail tours.
The old record for Dual Sport riders at a weekend trail event had been 58, set at the 1996 color tour near Grayling. This was surpassed by the Capitol Chapter's Rites of Spring ride at Whiskey Creek in early May when 61 riders toured the Dual Sport course) including a record 47 on Saturday alone. The percentage to total signups was only 12% but this was due to the fact we had the highest participation at a trail tour in almost 20 years with 545 riders. The mid-may event put on by the ORV Safety Patrol south of Luzerne had 38 Dual Sport riders, a record for that event. This also amounted to about 20% of the signups, but Genessee Valley's mid-june event north of Mio produced a downer when only 27 of the 245 signups tried the Dual Sport route (an 11% figure, at this point}. Thought that the high numbers of Dual Sporters at the first two events were just a one time thing, but ridership did a big turn around after that. The July event at Geels by the Capitol Chapter was held on a hot, very dry and dusty weekend, the low turnout of riders: 108, did not surprise me, but the relatively high number of Dual Sport signups (30) did, this figure of 28% of the signups set a record at a weekend TT, the next event was held in the U.P. near Brevort by Tri-County, a low turnout of riders was expected for this August event, but it produced an increase in signups compared to the same event held here in 1997. Dual Sport ridership showed the largest increase when 33 riders rode the course. This was double from the year before and a new record 29% of the signups. The Bulldog trail tour in early September continued Dual Sport popularity when more than 25% of the signups, about 55, went around the course, and things got better yet at the final two events. The late September Bentwheels event at rose city attracted 191 riders and set two more Dual Sport records. The first was the 62 riders who rode the course, the second was the 32+% of total signups. But records are made to be broken. The Pathfinders-West Michigan color tour two weeks later produced two new marks when 68 Dual Sporters showed up to ride the route, including 55 on saturday alone, this amounted to 18% of the signups.
This large increase in Dual Sport participation last year was better than I had hoped for, but with this increase came problems. The first one concerned how to complete the increases in paperwork required for each event. I had enjoyed doing this by myself as it gave me something to occupy my time after work. But by july, it became imperative I find others to help me so the paperwork would be completed in a reasonable length of time. I would like to thank the following people for their help with Dual Sport preparation: Gary Purdy pitched in not only with the paperwork, but rode along with me on some of the work weekends I spend making up Dual Sport routes. Dave Karl, who rides along with me on sweep riding after signup is over, also volunteered his help with paperwork. Dave told me his secretary at the business he runs did not not have enough to keep busy, so he had her fill out her work day drawing Dual Sport maps and making a contribution to the CCC. Also thanks go to Brian Miller and Dan Gentz. They offered to become Dual Sport helpers in mid-summer, so I had them do some of the sweep riding. I was getting kind of tired of this, especially on sunday.
Because I see Dual Sport riding becoming even more popular in 1999, we will need more help this coming riding season to make Dual Sport 'happen' at the trail tours. There are three areas anyone can volunteer to help with, first and foremost is the paperwork. More riders will mean an increase in this. The second will be sweep riding of the routes each day after signup is over. 3 to 4 more riders will be needed to help with this, the reason being many Dual Sport courses being contemplated for 1999 will have 4 separate 40-50 mile loops, Dual Sporters will have the option of riding any of these loops they want to either day of the event. 1 or 2 'sweeps' will be needed to cover each loop starting in the early afternoon about 3 hours before the prize drawing. The riders will be more spread out each day and this should cut down on the complaints received last year about congestion and the dust raised to ride thru. A third area I really need help with is to have one or more riders accompany me on the work weekends I spend between the trail tours making up these Dual Sport routes. This involves a lot of stop and go riding as the turns and millage are recorded for the route sheet and riding down dead ends to eliminate them from the final course. If any of you Dual Sporters can spend one weekend or even one day helping me every 4-6 weeks, it will be very appreciated. I can be contacted at 616-731-4779 anytime this winter and evenings only after mid-march. Just let me know a few days in advance during warm weather and I can tell you where to meet me for that weekend's work.
Improvements for 1999 will be route sheets with much larger print for you riders who have trouble reading small print. I will also have route sheet holders available for purchase at signup. I started this in mid-summer last year and sold every one I brought to the events. They will be offered for sale for what I purchased them for. 1999 Looks like another heavy trail tour schedule with 8 weekend events offering Dual Sport riding. So again I appeal to those of you that are: 1) getting older~ 2) unable to ride single track anymore~ 3) tired of riding just single track~ 4) anyone in the CCC that wants an easier ride~ 5) those of you that can't ride single track anymore due to injuries~ 6) anyone who is getting tired of hurting for a week and a half after a 50-75 mile tour on a single track course~ and 7) you CCC members that do not come to the trail tours. For anyone thinking of trying this~ make sure you have a -road legal-off-road bike: horn, mirrors, tail light, head light, brake light, U.S. Forestry service approved muffler/spark arrester that can pass the sound limit of 94 decibels, dot approved knobby tires~ license plate) and orv sticker (for the posted trail sections). You must also be road legal: drivers license cycle endorsement, registration< and insurance. Last year I was told by our executive director, Bill Chapin, and some chapter presidents that some riders were going out on the Dual Sport routes that did not meet the above legal requirements. Here I must emphasize this: do not ride the Dual Sport routes at the trail tours unless both you and your bike are road legal. Violating this could cause serious trouble for the CC. In closeing I would like to continue seeing more of you become 'hooked' on this type of riding in 1999 like I did in 1992, so come out and make it an even better year for Dual Sport participation that 1998 was.