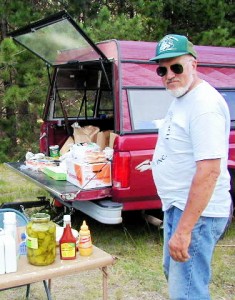 Here's some nolstalgia for our long-time members and a bit of history for the rest.
This was Steve Flach's third "dual sport" article that was published in the CCC's Great Lakes Trail Rider magazine back in 2000. It's interesting to watch the "tone" change from year to year in the subsequent articles as things progress (see article 1 and 2). Those of us with direct involvement can also look back on the history of our organization/sport and see things coming together (in hindsight, of course).
Dual Sport III
BY STEVE 'Dual Sport' FLACH ('46-'07)
Fellow Dual Sport riders. 1999 Is now history and Dual Sport riding attained new highs in participation. 506 Riders rode the weekend Dual Sport courses this past season, compared with 374 in 1998. A 25% increase. Many new ridership records were set, but do not expect these to last long with the 2000 riding season coming up. 6 Of the 8 trail tours in 1999 had increases in Dual Sport riders with 5 of these having 25-30% of the total signups.
The record for Dual Sport signups was shattered twice in 1999 with the rites of spring t.T. By the capitol chapter at whiskey creek setting the tone early. The 'old' record was established at the 1998 color tour, which set two marks. 68 Riders rode Dual Sport that weekend and 55 on saturday alone. These totals were both roundly shattered at the first 1999 event. 84 Riders were on the Dual Sport routes on saturday and 97 overall for the weekend. This amounted to only 17% of the total signups, but this event had another huge turnout with 550 riders. The next t.T. Was the mid-may ORV Safety Patrol event held at meadows campground near Luzerne. This produced an event record 43 Dual Sport riders out of 191 signups, a 22+% figure. Next up was the pathfinders- west michigan chapters t.T. At carrieville in early june. Rainy weather kept turnout low, 134 riders, but 38 were on the Dual Sport loops, a 28+% figure. The next event was the Tomahawk chapter's Phillip Bean memorial ride in late june near wolverine, back after a one year absence. This attracted a record 48 Dual Sport riders out of 190+ signups, a 25% participation rate. Tri-county's late august trail tour at Brevort in the u.P. Was next on the schedule. This was the third year of this event and it saw another ridership increase to 165 with an event record 50 Dual Sport riders participating, a 30% figure. Bulldog's early september ride north of atlanta attracted 241 riders and another 50 Dual Sporters. A 21% figure. Capitol chapter's 'vintage' ride in late september saw the biggest jump in weekend trail tour participation. Signups more than doubled to 214 and Dual Sport ridership increased from 38 in 1998 to an event record 62 riders, a 29% figure. This brings us to the final event of 1999, Tricounty's color tour near Vanderbilt in early october. Had made up 100 copies of Dual Sport paperwork for this event, expecting about 75-80 riders. But a new one day record of 108 showed up for Dual Sport on saturday and 10 more signed on sunday for a new weekend mark of 118 riders. This amounted to about 27% of the total signups.
The growth in Dual Sport participation was most welcome and I see no letup in the coming 2000 season. I expect a record Dual Sport turnout of 125-150 riders at the first 2000 event at Whiskey Creek. I also expect Dual Sport participation to reach 40% of the total signups at some events next year. A few years down the road, Dual Sporters may very well constitute the majority of signups at our weekend trail events. A major reason for this increase in Dual Sport ridership every year may be that many riders have told me they are tired of the same old 'whooped' out single track trail being used every year at many TTs. They try the Dual Sport course and find out it is not the road ride they thought it was. They have an enjoyable time and come back for more in the future.
In last year's Dual Sport II article, I issued a call for more people to help me make Dual Sport 'happen' in 1999 and more than two dozen of you responded. Three individuals really stood out and need some recognition here. Much personal thanks go to Jim Carl, Tom Wall, and Gary Purdy. These three were invaluable to me for their help this past season. Jim karl spent a lot of weekends with me on work rides, did some Dual Sport paperwork, and performed a lot of sweep riding at the TTs. Equal thanks should also go to his wife for allowing him the time to help as much as he did. Tom Wall was right up there with Jim Carl. He also did a lot of work weekends and sweep riding and equal thanks also to his family for allowing him to do this. But his biggest contribution to Dual Sport was the cheap way he found to make colored Dual Sport maps on his computer system. This saved myself and others a lot of time and cost hand drawing them. Gary Purdy was my third major helper in 1999. He contributed to paperwork, sweep riding, and some work rides. His behest help was that he did most of the 'roughing' in of the 'vintage' ride at Geels in late september, saving me a few weekends of work. Gary lives just a few miles up the road in Roscommon so this was right in his backyard. For you Dual Sport riders who enjoyed this course, you can thank Gary for the major part of it. I only made two minor alterations to two of the four loops. Major contributors to Dual Sport sweep riding this past season were Brian Miller and the Gentz family; brothers Don and Arne, and their sons Dan, Brian, and Keith. (If I failed to mention any Gentz family member I forgot helped, I apoligize. Dave Brock was my main pre-rider. He was almost always the first Dual Sport signup on saturday. He made sure to replace any marking ribbons that were missing. Others who contributed to Dual Sport in 1999 were John Lang, Rick Cote, Pete Hartung, Pete Jantschak, Dave Butcher, Laurel Cook, Dave Karl, Jim Ferguson, Ron Heath, Sue Heath, John Hodap, Lee Rodgers, Bern Bidinger, Norm Beyer, And John Wardell. If I forgot to mention any other CCC members who helped on Dual Sport, your assistance was appreciated.
For the coming 2000 riding season, I now have sufficient help on the paperwork, can use some more volunteers for sweep riding, and can really use more help on the weekends I spend making up and finalizing these Dual Sport routes. Anyone interested, call me at 616-731-4779 evenings. The changes I implemented in 1999 went over real good. The larger type print on the route sheets helped many riders who had trouble seeing the smaller print used before. The 4 loop 40-50 mile concept also was very popular and will continue for the 2000 season. Route sheet holders will again be offered for sale at signup to any that want them. New changes for 2000 will be sweep riding will be done only on sunday. Dual Sport riders will sign a sheet saturday before going out and sign back in upon return. Bill Chapin, our ex. Director, has requested that there be fewer marking ribbons at the turns, so you Dual Sporters will have to pay a little more attention to your navigating as you ride along. Another change will be the standard cycle odometer millage that was offered just below the ICO electronic millage on your route sheets. I found out this past season that most cycle odometers read higher than the true millage. This amounts to about two tenths of a mile higher after 10 miles ridden. The millage offered on the 2000 route sheets will reflect this change. Choose which ever one most closely matches your odometer. The 2000 season has another 8 planned weekend events offering Dual Sport. So we Dual Sporters are again appealing to those of you that are; 1, getting ancient, 2, unable to ride single track anymore because of injuries, physical problems, or getting-ancient, 3, anyone that wants a different riding option or easier ride at the events, 4, anyone and/or their cycle who is tired of hurting for 1-2 weeks after riding single track, and, 5, you CCC members who do not come to the trail tours.
This part of the article is most important. For anyone new to this type of riding, make sure you have a road legal off-road cycle: horn, mirrors, working head, tail, and brake lights, united states forestry approved muffler/spark arrestor with a 94db or lower sound rating, d.O.T. Approved tires, license plate, and ORV sticker (for the posted trail sections). Make sure you are also road legal with a cycle endorsement, registration, and insurance. Do not get Dual Sport and the ccc in trouble by riding Dual Sport unless you meet the above requirements.
Dual Sport has come a long way since 1992 when fewer than 5 riders participated at some TTs. In some cases, Dual Sport ridership has increased over 1000%. I predict many weekend events in 2000 will have 75-125 riders on the Dual Sport course. I will continue to put together the Dual Sport routes you riders enjoy as long as my health and energy hold up. I do not have to do all the paperwork now, enough riders usually come forward to take over the sweep riding, and I usually have help on work weekends.
Finally, I would like to see many more riders join our Dual Sport ranks and make the 2000 season the biggest and best Dual Sport year yet.