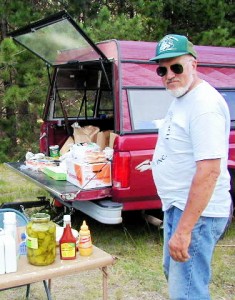 Here's some nolstalgia for our long-time members and a bit of history for the rest. 
This was Steve Flach's first "dual sport" article that was published in the CCC's Great Lakes Trail Rider magazine back in 97. It's interesting to watch the "tone" change from year to year in the subsequent articles as things progress. Those of us with direct involvement can also look back on the history of our organization/sport and see things coming together (in hindsight, of course).
Dual
Sport
Riding
By: Steve Flach ('46-'07)
Is Dual sport riding for you? Are you looking for a different type of riding at the CCC trail tours? If you answered yes to these questions, then dual sport riding may be the enjoyment you have been looking for. This article will seem like old hat to the core group of about 35 riders that have enjoyed the dual sport courses at the trail tours since 1992. Indeed, this article is aimed at those of you that are: 1)Getting older, 2)Unable to handle the single track, 3) Tired of just riding single track, 4) Any members ofthe CCC who want an easier ride, 5) People like myself who have had injuries years before which makes single track a real pain or impossible, 6) Those of you who hurt for a week after riding a 50 – 70 mile single track and 7) Those CCC members who do not come to trail tours.
What is dual sport riding? Dual sport riding is using a road legal off-road cycle (head light, taillight, brake light, horn, mirrors and DOT approved tires), in conjunction with the rider being road legal, with a cycle endorsement, insurance, registration, plate and ORV sticker (for the trail sections), to ride a mix of paved, gravel and dirt roads, ORV and snowmobile trails, forest two-tracks and even a little single track. A rider follows the course from one point to another by using a route sheet given to them at sign-up which has mileage which corresponds to their odometer readings. A map of the course is also included. It comes in handy if you become lost, are injured, have a mechanical problem or just want to come back to camp early.
Advantages of dual sport riding are: Both you and your bike usually come back in good shape and clean, you do not hurt all over, except from sitting on the seat for over I00 miles, the dual sport courses are usually changed from year to year so you get to see a different part of northern Michigan and you ride at your own pace, you are able to enjoy the countryside going by and can stop anytime to rest.
Now at the trail tours, the route sheets and the route maps are easy to read and understand and are uniform from event to event. Many of the dual sport route sheets now have two sets of mileage, ICO electronic and standard bike odometer to satisfy those riders who have either one or the other. The courses are now kept to around 100 miles or less which means a ride of 5 – 6 hours or less and gives one time to finish well before the daily prize drawings.
A good percentage, (30% or more) of the route is two-track which seems to be what the riders prefer. The courses have one or more gas/food stops so a rider has no worry about running low on fuel or getting thirsty. There are at at least one or more cleanup riders on the dual sport route who go out after sign-up is over and help any riders along the way who might need it. I discovered this type of riding in 1992 at the KOM Chapter TT and the ORV Safety Patrol ride just after. Prior to this, I was ready to hang it up and sell my bike after 29 years of nding because the single track was too tough on my knees and left shoulder. I so enjoyed this format that the following two years, I became involved with helping put on the dual sport rides at many of the TTs. By helping with these routes, joining 5 CCC Chapters and helping with the ORV Safety Patrol Fundraiser, I feel this is something I can do to
contribute back to the CCC organization.
There has been a slow, steady increase of riders dual sporting at the trail tours since this type of riding was first offered in 1992. Many times that first year, there were less than 5 riders at each ride. Now two trail tours in the last two years have had over 50 riders with a high of 58 at the 1996 tour in Grayling. Dual sport riders now constitute from 10% to to 15% or more of the sign-ups at the trail tours. An increase to 25% or more would be very welcome. So, come out this year and try this type of riding.
You may become hooked on it such as I did and have something to look forward to at each TT like the three dozen or so riders who attend dual sporting events now. We have plenty of dual sport routes planned this year at several trail tours, so how about coming along for the ride in 1998!