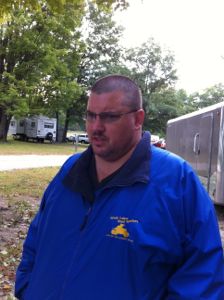 The trail back to fun, friendship and excitement.
By Steve Rauscher
Ten years without riding, never again! I almost forgot how much fun riding is. Years ago, I rode single track with guys who were much faster then I, so I learned to eat dust and enjoy it. Then I made a stupid move and sold my brand new KDX250 for reasons ah well..ah.ah.. ya know… So last year (spring 2003) I got a wild hair and purchased two used bikes. An old 550 Maxim and a '99 KLR250 both of which were in great shape. I still do not know why I purchased the street bike, because my philosophy is, I would rather hit a tree then a car. I put maybe 300 miles on the old Maxim and then gave it free rent in my garage for the next few months. However, I had bigger plans for the little KLR; I wanted to return to northern Michigan with my new digital SLR camera to take pictures of nature while riding the forest roads and two tracks. Well, guess what, has not happened yet!
One thing led to anther and I got involved in a hug landscaping project at home and the little KLR sat all summer in the garage (also rent free) and was ridden once down a short lane in the neighborhood. This short ride quickly made me realize the KLR250 did not have enough horses under the tank to haul my fat butt around the sands of Michigan. So once the landscaping was complete and a trip to Texas was in the planning stages I traded both the used bikes on a new '04 KLR650.
I then firmly set my sights on Big Bend National Park in Texas for some desert riding during Christmas vacation. Talk about a different world down there, rocks, rocks, rocks and more rocks.. I even ran across five illegal donkeys in the park which had crossed the Rio Grand River to feed on the US side. On my first day I was to ride a 25 mile truck trail which had many washouts, short climbs and even a few drop offs which my folks suggest would be a good adventure. I quickly learned I had not ridden in a loooooong time. The trail was rough, no wait, lets try very rough, and the new KLR was bone stock, trials tires and all. After only about two miles of dodging rocks and cactus my hands, legs, arms and back were already starting to feel the pressure of holding on for dear life. I almost turned around at this point telling myself "there has to be a better way". But the little boy in me said, "I think I can, I think I can" so I continued on. Even though it was mid December it was hot in the desert, so I am glad I had attached my old blue water bottle to the cross bars. After ten miles or so, I stopped, watered myself and then the rocks and enjoyed the view, the whole time thinking about taking the easy way out and back tracking, but once again the little boy in me kicked in and I moved forward. A short time later the KLR developed a clang clang clang noise which I thought was the Speedo unit bouncing around due to the rough trail and the way the bike was being rattled around (not sure Texas knows what dirt is, just ROCKS). The clang clang clang continued to get worse, but the bike seem to be running fine so I continued on. About 20 miles in, I ran across an Orange bike which was parked on the edge of a look out with its rider sitting on the ledge with his legs dangling over taking in the beautiful valley and mountain beyond. Now I am afraid of heights so I beeped and went on not wanting to get too close to the edge. After almost three hours I finally finished the 25 mile trail. Now came decision time, I had to decide rather to turn around and ride the trail back or loop around on the gravel and pavement which was 55 miles. Needless to say, I looped and ended up with major monkey butt. This was the most miles I had ridden in one day. I was extremely tired and proud of myself.
The next day I decided to ride a truck trail which was more my style. The trail was more like a rough gravel road with many washouts rather then large square rocks stacked on each other for miles after miles. I was able to maintain a fairly good pace, but the clang, clang, clang from the previous day continued. After a couple hours the bike started to handle like a Ford Pinto with no rubber on the wheels. I stopped again to check the noise and finally discovered what the clang clang clang was. The steering stem nut had vibrated loose. Not prepared to have a large loose nut I did what every red blooded American boy would do and attempted to tighten the nut with my fingers, but I just could not get the nut tight enough. After only a few hundred yards the nut would spin off again. There was no way I could tighten the nut with what I had and I was not about to walk out of the desert, so I ended up holding the nut with my index finger of my left hand to keep it in place while I rode out of the desert back to the main road and camp. I was schedule to depart the next day so I just loaded the bike and called it a day.
I did not get to ride as much as I wanted but it was enough to know I had made the right decision to purchase a bike and start riding again. Once I return home to Michigan I started really reading the CCC Trailrider magazine and decided to attend the Rites of Spring event. I had only attended one CCC event in the past which was a winter ride back in 1990, which was a complete failure on my part. Who knew about studs? Not me!!! Anyway, after reading the ads and write ups about Rites of Spring I just had to see what 900 bikers looked like. I took the Friday before the event off and arrived early to setup camp. I really did not know what I was doing or what to expect so I pretty much kept to myself and watch it rain and the propane level diminished throughout the afternoon and evening. Then came sign up and sound check. No, no wait that is sound check and sign up.. Like I said, I did not know what I was doing. The rain was coming down pretty good so it was a relief when I finally found the sound check area and the guys just looked at the stock KLR, smiled and gave me the paper work required and told me to head off to the sign up area. I must have looked like I had not ridden for ten years, remember, I still have the stock trials tires on the bike, it was muddy and I was timid to say the least. Off to sign-up I went soaked and all.
One of the things I remember most about this weekend was the age of the riders. When I was riding single track I very seldom ran into 40+ riders, but at this even it seems most folks were, mature you might say. The other thing which stood out, I was not the only chunky guy there. I was somewhat self conscious about being a large man wanting to play in the dirt on a motorcycle, until that day. I even met another large fellow on the trail who asked me where I was able to find motorcycle clothing for portly fellows. I though that portly was a pretty nice way of putting it, but I will admit it, I AM FAT. Anyhooooo, I finally get though sign-up and head back to the camper.
I spend the rest of the night watching it rain and the temperature drop. I was thinking, I really do not want to ride in the rain and it will be too cold to ride in the morning so this was going to be a wasted trip. However the next morning the rain had stopped and the temperature had jumped up a few degrees. Not a heat wave by any means but warmer.
Since I had never ridden a Dual Sport event, I had lots to learn. I had purchased a GPS some time earlier but really did not know how to use it. Then there was the roll chart, which reminded me of cave paintings, I knew I was going to be lost for sure before the day was over. I decide to wait until late morning to venture out, hoping there would be tracks to follow. Sure enough there were tracks and plenty of them. I quickly learned how the roll chart and GPS work together to guide me. After about 25 miles I ran into two fellows from the AMA who were riding the DS, taking picture and writing an article about the event. I ended up riding with them for the remainder of the day. I hate to admit it but I cannot remember their names but they rode at a pace which I enjoyed. We did not complete the entire A-loop due to the temperature dropping and time was running short. I ended up riding 85 miles which was once again the most miles I had ever ridden in one day. I was very tired and ready for a good nights sleep. Matter of fact I sleep so hard and so long, I did not have time to ride on Sunday so I packed up and headed for home.
When I was riding single tracks way back when I always liked the wider sections where I could open it up a bit and now I know why. As a kid growing up in farm country of Illinois basically the only place there was to ride was the country gravel roads or in open fields at wide open speeds. This has to be why I like the Dual Sport riding so much. For the most part the pace is much faster then single track but there is still time to look around and enjoy the country side.
At this point I must thank Jeramey Valley for taking time out of his busy schedule to talk to me on the phone and again at sign-up lending words of advice and friendship. After talking with Jeramey and explaining how much I enjoyed Rites of Spring and the type of riding I want to do he invited me to join the Great Lakes Dual Sport Motorcycle Club (GLDSMC) and preride the Safety Patrol DS loops. Two days later I was at South Branch eating the dust of wheel king Jeramey. Jeramey is much faster then I but graciously waited for me at each reset and at many turn so I would not get lost. I do not recall how long it took to ride the loop but I once again eclipsed my most miles in a single day. Again I was tired and sore but this time I was hurt. Still running the darn trials tires I got crossed up in the deep sand on the power lines and jammed my foot into an embankment twisting my knee. That was Saturday and everyone else had other plans for Sunday and left, so I was on my own for Sunday. I wanted to ride but my knee was bothering pretty bad so I decided to just take it easy and ride over to Oscoda on the roads to see the lake. I figured after 15 years of living in Michigan it was about time I seen one of the Great Lakes.
From that point I have only missed two weekends of riding due to work. I am now a full fledged member of GLDSMC, no wait I still need my GLDSMC hat before it is official (Jeramey???). I have meet and ridden with many different Dual Sport riders and have enjoyed them all. My schedule is booked with events and prerides and I have even taken a week and ridden most the 1200 miles of the DS UP Safari which I plan on completing in September. I have started to plan another Christmas trek to Texas which I hope will be more successful, and have been considering talking to some of the guys about heading to Colorado next year for a couple of weeks to investigate some of the passes. Needless to say I am hooked. Now I just need an Orange bike!

As they say keep it on the trail
Steve Rauscher