History of GLDS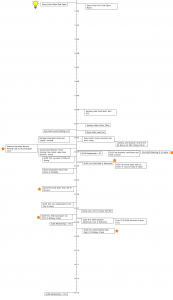 As history is defined by those who write it, this information is subject to change.
On the 8th Day, God said "let there be Dual Sport" and there was and it was good.
In the late 60s the folks that formed the Cycle Conservation Club of Michigan were putting on motorcycle trail rides. This was the early days of trail building in Michigan and they didn't have any "loop" trails, everything was a "linear" trail. These rides included a staging location that the participants were to return to. The trail did not loop back to the staging area, so they included a road-based return route. Ride the trail for x miles and then follow certain roads back to camp. To facilitate this "return route" (and some of the trail sections since it was trail interspersed with roads) they included Route Sheets that gave mileage/distance and turn information. The first one we have documentation on was October 19th, 1969.
See the map and route sheets: https://www.gldsmc.com/public/FirstMCCCTTrailTour.PDF
We're not saying that the CCC invented "road books" since those were out back in the early 1900s before street maps became popular and useful. This is the first documented instance of an organized route sheet based motorcycle ride that used both road and trail.
As the Trail System in Michigan grew, they were able to make loop trails and the road-based return routes were no longer needed. I'm not sure when the route sheets went away (or if they did) or what happened from 1971 to 1990 regarding "Dual Sport". I've heard some anecdotal information on one or two "Dual Sport" rides in the mid/late eighties but nothing to substantiate it (referring only to what was going on in MI).
In ~1990-1992 the CCC was putting on Dual Sport routes at some of their Trail Rides. Steve Flach had told me of when and how he got involved and I thought it was in 1991, but I can't recall for certain. Steve did include information in one of his "Dual Sport News" articles that pinned the date as 1992 when he rode "Dual Sport" at the KOM Chapter's ride and subsequently at the Safety Patrol's Trail Tour (that would have been Carrieville in May followed by Luzerne). Those are what hooked him on Dual Sport after years of single track-only riding. He even re-did their route sheets in his own format and took off from there working on Dual Sport Routes for each of the CCC's Trail Tours.
We have the archives from these rides through present day. They are entirely useless from a riding perspective as much has changed over the years, but they are still neat to look through.
Steve Flach basically "took over" doing all of the Dual Sport rides at the CCC's Trail Tours with rare exceptions where the hosting Club would have their own guy do the work. This started in 1992 and continued through the 90s. It was before GPS units were useful and Steve had never touched a computer.
Steve would plan out a rough course on the paper maps and then ride and record the routes. As he rode, he'd write down the route sheets on a paper strip in the holder and mark up a paper map. He'd "dot" in the missing roads on the paper map as best he could with amazing accuracy.
The maps were photo copied from a Delorme Gazetteer (usually enlarged) and then the course was hand drawn on the map. Copies would be made in black and white and then each copy would have the course lines drawn in color by hand (holy tedious work, batman).
The route sheets would be transferred to a letter sized sheet of paper. He did this on his manual typewriter, which is why you'll see some whiteout blotches on occasion. After typing in the information, Steve would hand draw each intersection pictograph. Photo copies of the route sheet would be made and then each copy cut into three strips and taped end to end. All by hand, for every route sheet handed out – and you thought hand coloring the maps was labor intensive.
In the late 90s (98/99) Steve was looking for more help with these tasks. There were also issues with some of the rides, where the DNR was enforcing new rules and regulations. Things that just made life more difficult for Steve and he was already putting his heart and soul into the DS Routes. Downright discouraging in some regards, but he persevered.
In 2000, I started riding the CCC Trail Tours, normally with Larry Haas and his brother Denny. They rode the Dual Sport routes and so I did as well (in addition to the trails). The Dual Sport was awesome. The sights, the terrain, the navigation challenge, just cool stuff.
I read Steve's Dual Sport News articles in the CCC's TrailRider publication and thought I could help (since he was asking for help, literally asking for somebody to take over what he was doing). That was 2001.
Steve taught me what he did and the plan was for me to help and slowly transition as we worked together (I was still in "helper" role) over the next few years. I would ride along with Steve as we laid out the upcoming DS Routes, shadowing the route sheet when I could, running down alternate 2T to see if it went where Steve needed it, etc.
In 2001 Steve started doing "cookouts". Maybe he did these previously but I can't find reference to them in the archives. These were Dual Sport only rides, where Steve would set a date and guys would meet up to ride a route he had put together (usually it was a repeat of a previous ride). There would be a small cook out afterwards. No fees or other, no specific organization. Out in the woods on State land somewhere for true rustic camping. The ones that I attended had 5-10 riders. Fun stuff.
Some of the higher-ups in the CCC were pretty unhappy with these cookouts and the rogue behavior of those unsavory Dual Sport types. Since Steve had made contact with these riders at CCC Trail Tours (where Steve would be handing out the DS Paperwork as part of that ride) they felt he was "stealing" riders and trying to "compete" with the CCC.
During the 2001 season I was looking for clubs to join (within CCC) to help with Trail Tours, Trail Maintenance and related. I joined Capitol Chapter, helped with a few rides; almost joined Valley Trail Riders but opted out after a few meetings (they weren't doing what I was interested in). RJ Witte was or was going to sponsor me as a member in VTR at the time. As I hung out with each Club at their Trail Tours, helped and did things, I saw that each had their own thing and few did all of the "stuff" (TT, maintenance and especially Dual Sport) that I was interested in.
In 2001 we had put together a mailing list for notices on the cook outs (post cards). This migrated to an electronic mailing list and discussion group on Yahoo. It was named MI Dual Sport (MIDS) at the time. We used it for notification of rides and other things including the cookout dates/times. Steve really wanted a quick way to contact all the DS riders after the 2001 Color Tour fiasco where the hosting Club opted not to pull permits for the DS and told Steve about it the day before (or day of) the Event and thus cancelled the DS portion with zero notice to the riders.
MIDS was the start of our organization in a sense as it was a named entity for the purpose of Dual Sport "stuff".
Steve came down with the cancer in late 2001. He had already put together Whiskey Creek (Rites of Spring) for 2002 but did not have routes done for the other rides. This meant there was a lot to be done yet and while I had been helping/learning/doing DS with Steve in 01, our transition plan did not include a full cutover this soon in 2002.
Shannon Ruthrauff and I recorded our first route on the ice and snow of late April for the mid-May 2002 Safety Patrol (South Branch). I believe that was the first Shannon had done any recording (he had helped Steve previously). I had done "shadow" recording with Steve the year before, so knew what to do. It's not rocket science, but it is a bit of an art form.
Steve went into remission and was able to help with some of the Routes in 2002, while I did a few solo (Gladwin) and had help or helped with at the other rides (Shannon and ?).
During 2002, Shannon and I discussed forming a Club. With Steve's health issues, the amount of work to be done, issues with the CCC & Steve (recall the cookout stuff earlier, plus some other things that would be wrongly blamed on the DS) the discussion lead to thinking that a small Club to handle Dual Sport to be the thing to do. The Club would be a Chapter of the CCC, like the other Clubs that were running the Trail Tours. Separately, RJ Witte had pitched the idea of a "dual sport" club to handle the Dual Sport tasks (he was working on the Gladwin Trail Tour and needed the DS route completed).
RJ was pretty instrumental in getting the paperwork and related logistics together for form a CCC Chapter, his experience with the Valley Trail Riders helped quite a bit.
October of 2002 we had the Club figured out regarding what and why, we approached the CCC to become a Chapter. The Club was going to Michigan DualSport, which was a continuation of the "group" we had going at the time. Pretty certain RJ indicated we needed a different name, due to the bad feelings the "higher ups" at the CCC had with Steve and our MIDS group. So the name was changed to Great Lakes Dual Sporters (I will take credit for the name, though I'm not 100% positive if I came up with it).
By the end of October 2002 we had our roster started with the minimum 12 members, had our paperwork in, things on track with the CCC.
December 2002 was our first meeting, held at the Wheel Inn in St Johns. Steve Flach had been meeting there each December with his helpers over the years, so we were continuing the tradition.
Officers were Jeramey Valley, President; Shannon Ruthrauff, Vice President; RJ Witte, Secretary/Treasurer; Larry Haas, Trustee and Jim Carl, Trustee.
In October of 2002, we had put the routes together for the Rites of Spring (May 3, 2003) along with the ORV Safety Patrol. So, same time we were putting the final work on forming the Club, we were working on routes for events. GLDS claimed those routes and the 2003 Rites of Spring was the first ride the "Club" had done the Dual Sport for.
GLDS put on the Dual Sport Routes for every CCC Trail Tour (with 1 or 2 exceptions) from 2003 through 2007. That included Six Days of Michigan and all the regular Trail Tours (~8 events per year).
GLDS had a business certificate on file and a bank account open on 12/9/2002.
Whiskey Creek, 5/3/2003 is the first GLDS Dual Sport Route. The Trail Tour was the Rites of Spring put on the Capitol Chapter with GLDS handling the Dual Sport.
Ted's Wild Ride in Wolverine was the first GLDS Club Ride on 9/13/2003.
St Helen was the first GLDS/Jackson Trail Riders Dual Sport (only) ride (Toys for Kids) on 10/18/2003.
GLDS filed with the State of MI as a corporation on 3/1/2004.
Nirvana was the first GLDS Dual Sport Only ride, on 6/11/2005. It was out of the PathFinders club grounds.
Geels was the first GLDS sponsored Trail Tour on 8/5/2006, which had Trail and Dual Sport and not in conjunction with other CCC Club as the host.
GLDS was granted 501c4 non-profit status by the IRS on 2/1/2007.
Whiskey Creek was the first AMA sanctioned DualSport and GLDS event, no CCC involvement, on 6/9/2007.
The Chandler Hill Challenge in Wolverine was our first AMA National Adventure Tour on 9/15/2007.
Our last function with the CCC, as a Chapter, was at the Color Tour in Rose City on 10/6/2007.
Whiskey Creek was our first AMA National Dual Sport on 6/7/2008.
GLDS Membership has grown from 165 at the end of 2007 to over 750 in 2013.