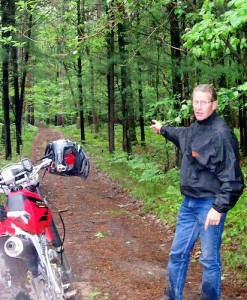 NO EVENT for 2014
This will not be an AMA National Event for 2014.
We plan to hold the National again in 2015.
Directions to Whiskey Creek:
(US-131 and US-10 intersection is our starting point.)
Map (PDF) available:

West on US-10 from US-131 16 miles to Baldwin (M-37/US-10 intersection).
South on M-37 half a mile to 7th Street (Wesco Gas Station on corner).
West on 7th Street for 5 blocks to Cherry St (stop sign).
South on Cherry 1 block to 52nd/Carr/Kinney/56th (one road, many names).
West on 52nd/Carr/Kinney/56th (across RR tracks) almost 13 miles to Walhalla (makes a sweeping turn to the right; you want to turn left on Walhalla).
South on Walhalla 1 mile to Hawley (road tees).
West on Hawley 1.5 miles to Woods Rd (dirt, Whiskey Creek Sign).
South on Woods Rd 3 miles (take the right fork in the road about 2.9 miles).
Campground entrance is on the right.
The Lodge is the large building on your right as you enter the campground.
More information: