AMA National Dual Sport
Note: NEW DATE!:  August 18-19, 2012, Wolverine Michigan
Register ONLINE
Pay with credit card or PayPal

Online payment has ended, can still sign up on site.
Some of Michigan's best motorcycle-only single track mixed in with some of the finer remote two tracks flowing through great elevation changes (hey, it's Michigan, stop laughing) with gobs of summer green in full swing.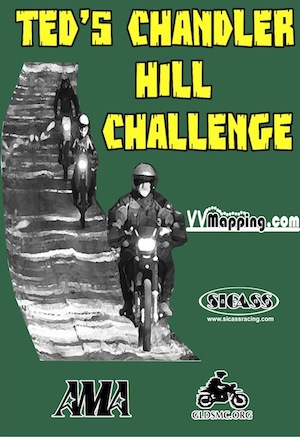 This is a route sheet ride, we can load your GPS and you will get a map. The route is not arrowed. Navigation is part of the experience.
There's the "regular" high quality Dual Sport route that a DRZ400 is perfect for. Then there's the hero sections mixed in with the Dual Sport that may be more suited to the sporty two-stroke lover in you.
Separate Adventure Tour routes available for the larger 2 wheel machines.
Main hero sections will be optional. Make the Dual Sport route as challenging or as easy as you want.
Michigan is sandy country, street legal knobby tires are strongly encouraged for all bikes, big or small.
Participants can experience both days or just one.
Gas stations are located directly on the routes.
Street Legal bikes and riders only. 94db max strictly enforced. ORV Sticker required for Dual Sport ($16.25, available online from the MI DNR; some available at event)
August 18th & 19th, 2012
Wolverine, Michigan (approximately 2 miles south of Wolverine, Michigan)
120 miles on Saturday with another 90 for Sunday. Shorter options available.
Route Sheets, Maps and GPS data provided at Registration.
Lunch will be provided on Saturday right on the route. Dinner at Camp on Saturday night is also included.
Door Prizes provided on Saturday after dinner.
Event is staged at Sturgeon River Campground (Facebook link), also known as Sturgeon Valley Campground (new website) – new phone number for 2012 as well: 231-525-8301. Reservations are welcome, but not required. Make sure they know you are with the event.
This ride is "Ted's" ride, as fellow club member and former lead dude for this event, Ted Farnsworth, passed away suddenly just weeks before the ride in 2009.
Local motels available.
Preregister & Save! $35 for 1 Day, $65 for both; $40/Day when paid at time of event.
Preregistration bonus! Free Event T-Shirt included for all pre-paid riders!! Preregistration ends August 15th. You can still register & pay at the event after the 15th.
Technical inspection and registration Friday 7:00 PM to 8:30 PM, Sat/Sun 8AM to 10AM
Directions:
Map available to site
I-75 to exit 301 (Wolverine).
West on Main St to Ballard (bottom of hill)
Left/South on Ballard 0.1 miles to Coffron (aka Trowbridge)
Left/South on Coffron/Trowbridge for 2.2 miles to Sturgeon River Campground (on left/east side).
More information:
info@gldsmc.com
Jeramey @ (989) 751-6863