Update 7/2/23 – MISORVA found a new representative to take up this legislation. You need to share your thoughts with both Representatives and Senators. The bill has a new number, now referred to as HB 4459. Details on the draft legislation is available: http://legislature.mi.gov/doc.aspx?2023-HB-4459 and as of 7/2/23 it has not left the House committee.
The Cycle Conservation Club has a sample letter and contacts for those not in support of the draft legislation: https://www.facebook.com/CCCofMI/posts/649016073919401
Great Lakes Four Wheel Drive Association also has information in opposition to this draft: http://www.glfwda.org/
Update 1/2/23 – The Senate did not pick this bill back up and it "termed out" at the end of the 21-22 session.
Update 3/25/22 – thanks to public input, this bill was put back for review but has not been dropped. Your input remains important.
10/24/21 – Thousands of miles of County roads, forest roads, ATV Routes, ATV Trails and even motorcycle-only trails set to be closed from Dec 1 through April 1 in Michigan. Hundreds of thousands of acres of public land will no longer be accessible to property owners, hunters and recreational users due to closure of sections of access roads that are also snowmobile trails.
Legislation has passed the House and now needs to pass the Senate. House Bill 4535 (was supported and driven by the Michigan Snowmobile Association which later changed to the Michigan Snowmobile and ORV Association, MISORVA).
This legislation is opposed by Wheeled Vehicle organizations such as the Cycle Conservation Club of MI, Great Lakes Dual Sporters and the Great Lakes Four Wheel Drive Association.
Contact your senator NOW and tell them not to support any legislation that seeks to limit your public access by restricting usage of roads that are also shared with snowmobile trails. Tell them not to support HB 4535 and any senate version of that bill.
Find your Senator: https://www.senate.michigan.gov/fysbyaddress.html
While the legislation has already passed the House, PLEASE contact your Representative to ensure they hear your voice as there is still opportunity to stop this.
Find your Representative: https://www.house.mi.gov/mhrpublic/frmFindaRep.aspx
The legislation states that any snowmobile trail that is snow covered and groomed will now be closed to motorized vehicles except a snowmobile. That specifically includes cars, trucks, motorcycles, ATVs, UTVs, Semis and even battery assisted fat tire bicycles.
If you are not a Michigan resident, you can still contact the committee members this legislation has to pass through:
Quoting the legislation:
---
During the period from December 1 through March 31 annually, a person shall not operate a motor vehicle other than a snowmobile on a trail if both of the following apply:
(a) The trail is part of the statewide trail network established under section 72114 and is designated for snowmobile use.
(b) The trail is snow covered, and the snow is groomed for snowmobile use.
---
Most snowmobile trails are existing roads. Those roads are public county-owned or public forest roads on public land. The snowmobile trails are allowed to share those roads during the winter.
Those roads are used by hunters, residents, and property owners for access, in addition to recreational use. That includes roads that are not snowmobile trails, but the only way to access an area or road is using another road that is a shared snowmobile trail.
Many of those roads are also shared by ORV Trails:
To connect across a stream or other wet area.
To connect public land separated by private land.
To reach services such as food and fuel.
To access parking lots.
Anywhere that the ORV Trail shares a road that the snowmobile trail also shares, that section of ORV Trail will now be closed. This effectively closes the entire ORV Trail.
Any ORV Routes that are also shared with snowmobile trails will now be closed for 1/3 of the year.
The legislation presents much uncertainty and doubt for a wheeled vehicle user.
No definition of "snow covered" is provided. Does it mean no bare sections of dirt showing anywhere? What about when the snow is compacted to effectively be ice, is "ice" considered to be "snow covered". How thick and uniform does it have to be. Should one assume that if there is ANY snow ANYWHERE on the road, that it is considered "snow covered". If there's a warm day and certain spots melt to expose dirt for 80% of the road width, does that constitute "snow covered".
Would either of these situations constitute "snow covered":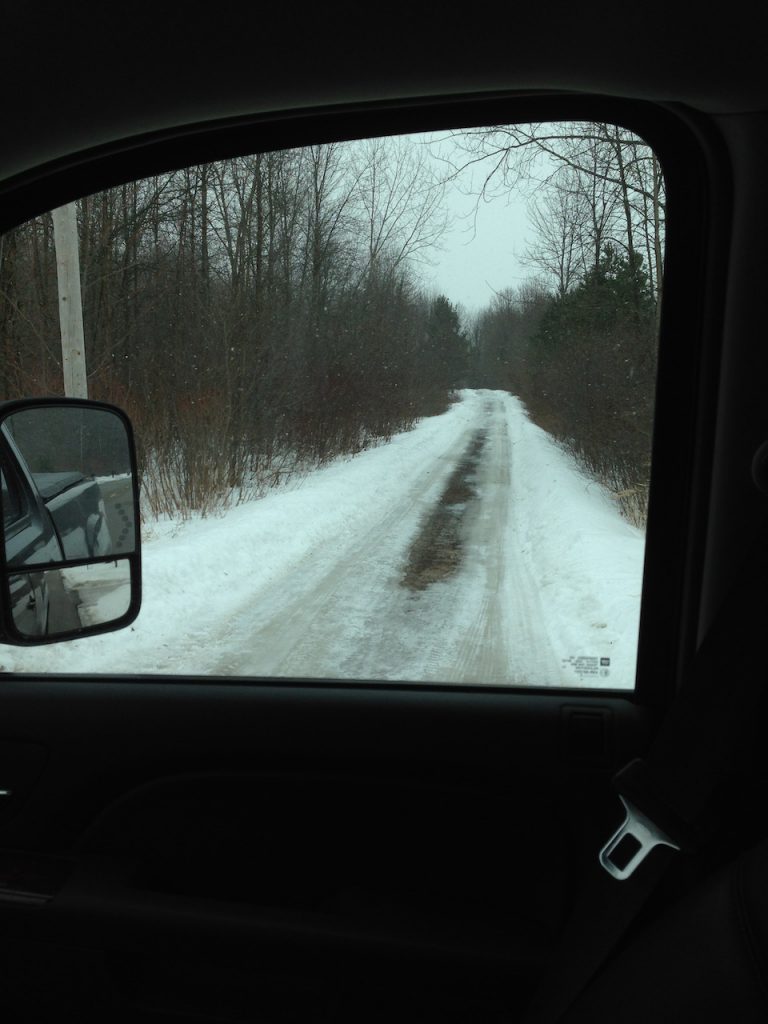 No definition of "Groomed" is provided. The dictionary.com definition of groom as a verb:
"to clean, brush, and otherwise tend (a horse, dog, etc.)."
Does "groomed" only apply to when an implement is used to smooth and compact the snow on the road surface?
Most of the public do not know if a "groomer" is a person or thing and would have no idea if that "groomer" has performed any "grooming".
No signage or reporting requirements of groomers has been established to notify the public if a "snowmobile trail" has been "groomed".
Does "groomed" mean once in the last 24 hours or once in the last 90 days?
Here's a snowmobile trail groomer in action: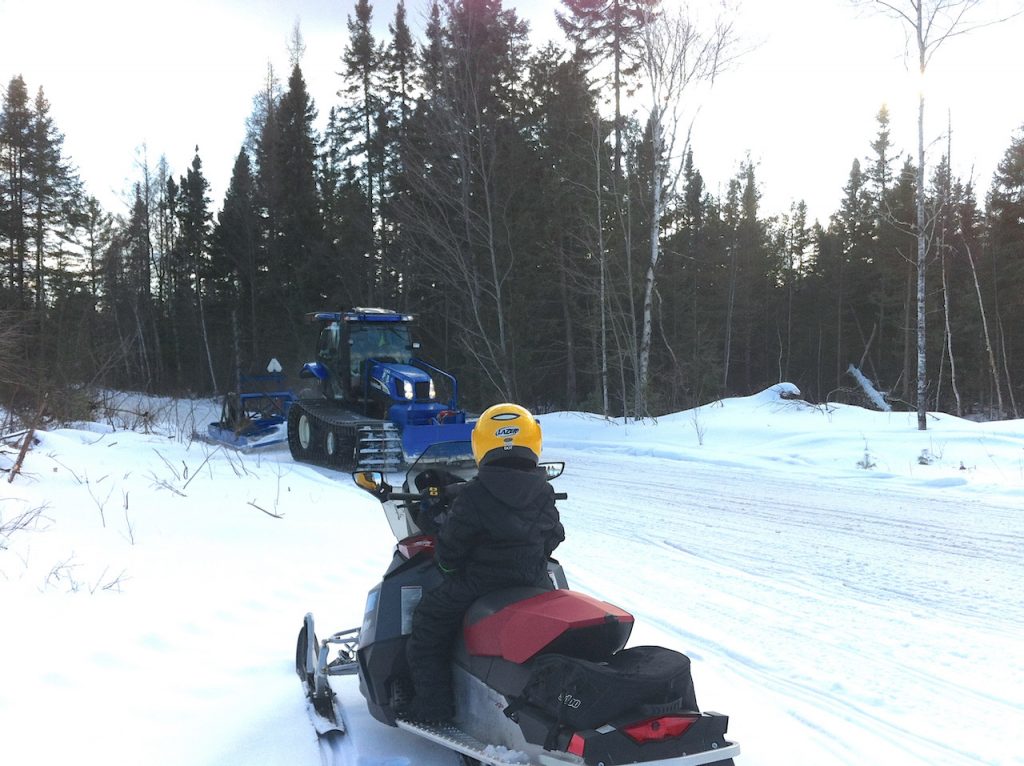 Are any of these trails "groomed" (answer is no, they had not been during that season):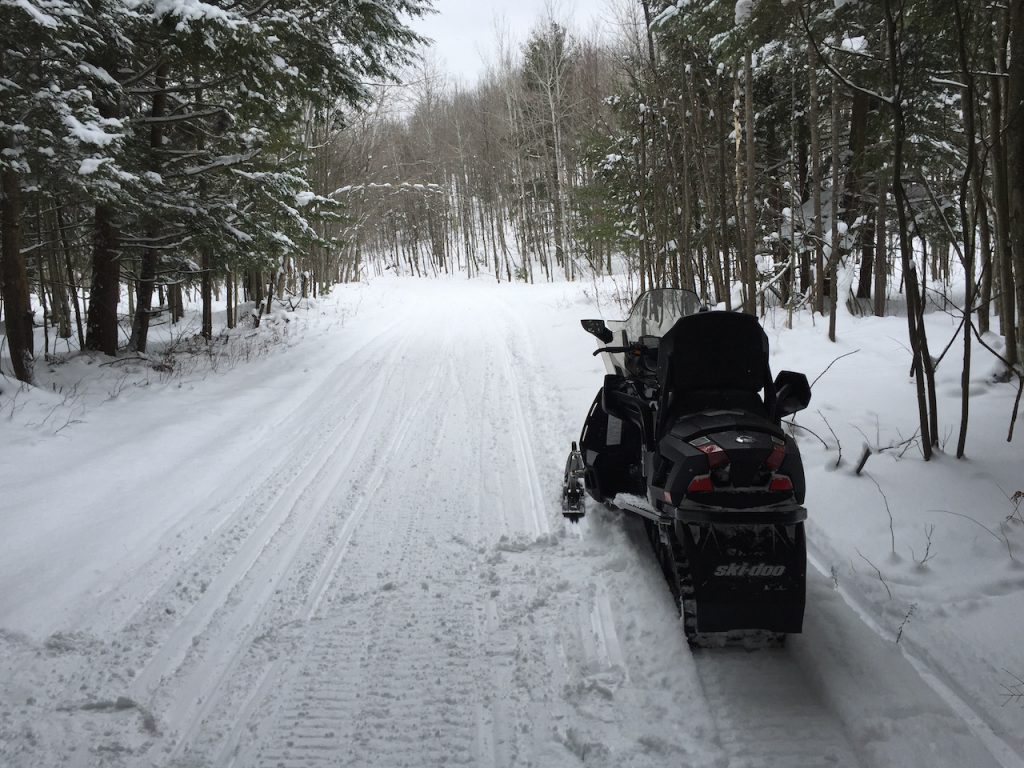 A few real-world examples of the indirect impact:
UTV riders will no longer be able to park in St Helen, access the Motorsports Area nor travel to Leota.
Hunters will no longer have access to the popular Avery Hills area east of Lewiston due to interconnecting "snowmobile trails". See Map for the Avery Hills Area.
Hunters and property owners will no longer be able to access over 20,000 acres of State Land between the Fox River and Highway 77, north of Seney as the only public access road is also a snowmobile trail. See map for the Sunken Lake area.
There are 108 designated ORV Trails and Routes that will be directly impacted by this legislation and will be closed. Not because the entire trail is also a snowmobile trail, but because there are shared sections of trail/road/snowmobile trail or the roads leading to or from the parking area are shared snowmobile trails.
That's over 4000 miles of ORV Trails and Routes closed, not because they are shared with 4000 miles of snowmobile trails, but because they share a section of a road that has allowed a snowmobile trail to be designated upon it.
Maps detailing the issue at hand for just a couple of the hundreds of examples: Geels ORV Trail, Grand Traverse Motorcycle Trail, West Higgins ORV Trail.
List of State Designated ORV Trails and Routes closed due to this legislation:
Motorcycle Only Trail:
Bass Lake Cycle Trail
Beaver Creek Cycle Trail
Big O Cycle Trail
Birch Hills Cycle Trail
Brevort Cycle Trail
Foreman Lake Cycle Trail
Grand Traverse Cycle Trail
Holton Cycle Trail
Hunt Creek Cycle Trail
Kinross Cycle Trail
Lincoln Hills Cycle Trail
Little Manistee Cycle Trail
Long Lake Cycle Trail
Michigan Cross Country Cycle Trail
Moss Lake Cycle Trail
Newberry-Brevort Cycle Trail
Newberry-Sandtown Cycle Trail
North Missaukee Cycle Trail
Porterfield Cycle Trail
Sandtown Cycle Trail
Tin Cup Cycle Trail
Tomahawk Cycle Trail
ORV Trail (50″):
Alcona ORV Trail
Atlanata ORV Trail
Baraga Plains ORV Trail
Bay City Lake ORV Trail
Big Bear ORV Trail
Black Lake ORV Trail
Bull Gap ORV Trail
Bummers Roost ORV Trail
Cedar Creek ORV Trail
Cranberrry Lake ORV Trail
Crapo Creek ORV Trail
Danaher Plains ORV Trail
Denton ORV Trail
Drummond Island ORV Trail
Forest Islands ORV Trail
Frederic ORV Trail
Geels – St Helen ORV Trail
Geels ORV Trail
Huron ORV Trail
Kalkaska ORV Trail
Leota ORV Trail
Little O ORV Trail
Meadows ORV Trail
Mio ORV Trail
North Missaukee ORV Trail
Norway ORV Trail
Ogemaw Hills ORV Trail
Old State House ORV Trail
Pine Ridge ORV Trail
Rose City ORV Trail
Silver Creek ORV Trail
St Helen ORV Trail
Tomahawk ORV Trail
Two Hearted ORV Trail
West Higgins ORV Trail
White Cloud ORV Trail
ORV Route:
Hermansville-Escanaba ORV Route
Marquette-Manistique Trail
Pioneer Trail ORV Route
Republic-Ishpeming ORV Route
Soo-Raco ORV Route
Keweenaw ORV Route
A-D ORV Route
Atlanta ORV Route
Beaver Creek ORV Route
Bill Nichols ORV Route
Black Lake ORV Route
Champion-Republic ORV Route
Days River ORV Route
Denton ORV Route
Denton-St Helen ORV Route
Drummond Island ORV Route
Felch Grade ORV Route
Forest Islands ORV Route
Four Mile ORV Route
Freda Grade ORV Route
Frederic ORV Route
Grand Traverse ORV Route
Gwinn – Arnold ORV Route
Hancock-Calumet ORV Route
Hiawatha East ORV Route
Indian Gardens ORV Route
Indian River ORV Route
Iron River ORV Route
Iron Mountain–Felch ORV Route
Lake Linden ORV Route
Leota ORV Route
Lincoln Hills ORV Route
Little Manistee ORV Route
Marquette-Manistique Route
Mio ORV Route
North Branch ORV Route
North Missaukee ORV Route
Norway ORV Route
Ogemaw Hills ORV Route
Old State House ORV Route
Ottawa East ORV Route
Powers-Arnold ORV Route
Roscommon ORV Route
Sidnaw-Bergland ORV Route
St Helen ORV Route
St Ignace-Trout Lake ORV Route
State Line ORV Route
Strongs – Raco ORV Route
Tin Cup ORV Route
West Higgins ORV Route
Wisconsin-Bond Falls ORV Route
We are not advocating for wheeled vehicle use upon groomed snowmobile trails. We are advocating against closures of our Roads, Trails and Routes that are paid for and maintained by our ORV Program Registration dollars and our tax dollars. Divisive legislation such as this, whether well intentioned or malicious, is bad for all of us.