GLDS Expedition: Michigan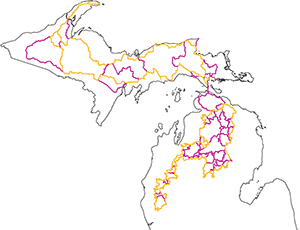 FAQ
Q. What's this "bikes bigger than a 650L will test the rider" stuff?
A. Michigan has lots of sand, if you want off the pavement, plan on riding sand, ruts and other types of technical riding that is much easier done on a smaller/lighter bike. We hope to rate each section to make it easier to decide what's OK for you and your ride.
Q. Do I need a GPS and which one should I get?
A. Yes and Garmin, mapping unit. 60CX is very popular with our crowd. The files are universal and you should be able to get them to work with most any unit, some easier than others. Some units do not handle tracks very well (Nuvi, Zumo) or at all (StreetPilot). You'll need to convert the tracks to routes to use the data.
Q. What tires should I run?
A. DOT approved knobbies. Your choice. Pirelli Scorpion Pro in the front and a Kenda TrackMaster K760 in the rear is a good combo. Central and Western UP is more rocky, the rest is pretty sandy. Put another way – less air pressure in sand, more in rock.
Q. I have the CD, can I make copies of it for my riding friends?
A. Yes. Long as you are not selling/bartering/trading the copies (ie for commercial purposes).
Q. I don't want to print out all the maps, or they take too long to download. What can I do?
A. See the VVMapping partner product on the download page.